Yogis Guide to Athens, Greece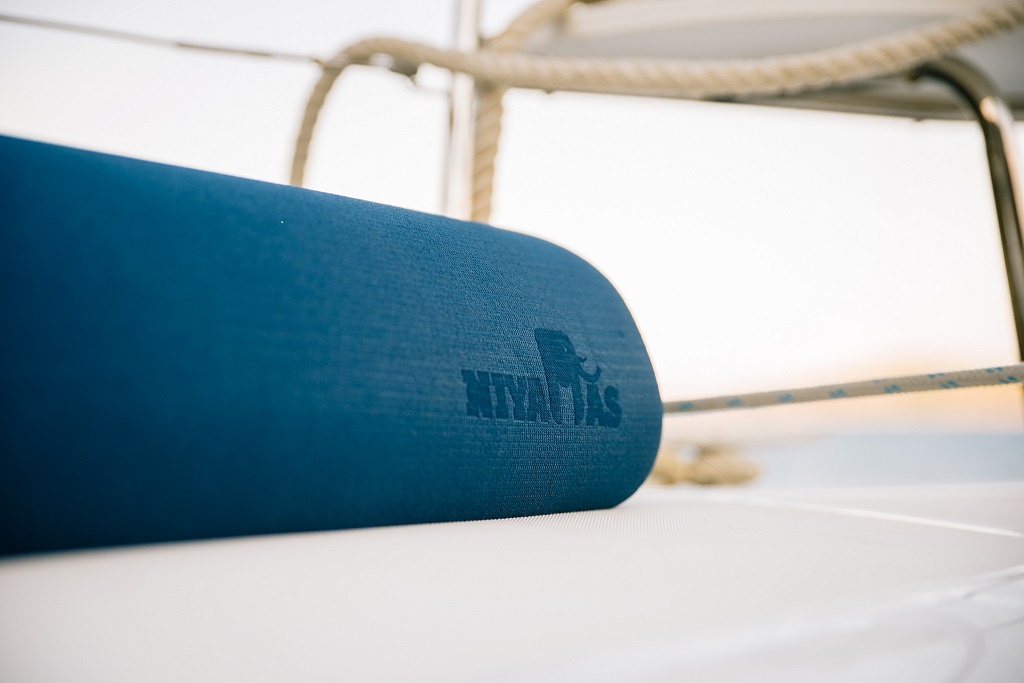 The Yogis Guide to Athens, Greece
I've been to Athens a handful of times and each time I visit I discover a new gem. In this Yogis guide to Athens post, I'll be sharing my favorite yoga shops, Athens yoga studios among favorite wine bars, sights to see and places to shop.
Where to Buy Yoga Pants and Yoga Mats in Athens
Yoga students and yoga teachers… if you managed to lose or forget your yoga mat, block, incense or mala beads head over to Simply Green. Simply Green is actually an online shop, BUT they do open their doors Monday to Friday from 10 am to 6 pm. They carry great brands… think Manduka and Jade, they have plenty of travel mats in all colors, and tons of other bits and bobs you may have forgotten at home (like a refillable water bottle, yoga towel, mat cleaner, etc.). It's amazing and it's located pretty centrally, so it's a win-win! Location: Simply Green 73 Ermou Str. Monastiraki.
If your yoga pants have blown away then check out the Nike store at 1 Ermou, this is probably your best bet for finding a variety of suitable leggings. Simply Green has a few leggings styles as well. Athens Yoga on Louizis Riankour 65, would be a bit of an expedition to get to, but if you're in a bind or feeling adventurous you could head out to their location. There are also two H&M stores on Ermou. H&M stores in the states typically have fitness wear… just check that your leggings are opaque!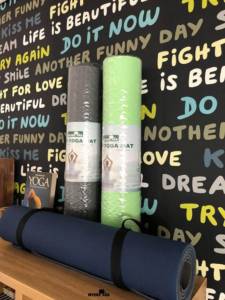 Niyamas Yoga Mat would be another option for picking up a yoga mat. Their mats are known for being nice and sturdy. They're a local brand and they're located a little north of the city center on Leof. Konstantinoupoleos 78-80 in Peristeri.
Yogis guide to Athens – The Best Yoga Studios 
If you're arriving in Athens a few days before your yoga retreat you may be seeking out a yoga studio in Athens to get moving and breathing after sitting on a plane for a dozen hours.
There are a surprisingly large number of yoga studios in Athens. Here are a few to check out:
Abhaya Yoga offers classes in English. At the moment, they have the following types of classes on their schedule: Bhakti, Anusara, Abhaya hatha, Alignment based yoga and Yin-Yang. Check out their website for their current schedule and pricing www.nysystudios.gr or give them a call +30 210 3232004. Location: Aiolou 43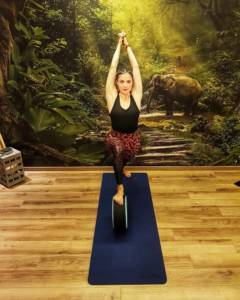 Anahatashuddi Yoga Studio is a little further away from the center, but it's gorgeous and well worth the effort. They offer floor yoga, aerial yoga and pilates in Peristeri. Reach out to Eva via email at eva@anahatashuddhi.com or give them a call at +30 210 5744162 or +30 694 6941126. Location: Emiliou Veaki 36
Swaha Yoga Kallisperi has super friendly staff and a large range of class offerings, including: ballet, pilates, aerial, and floor yoga. Check out their site www.swaha.gr or shoot them an email at om@swaha.gr Their phone number is +30 210 9229251. Location: Kallisperi 11
Other Yoga Class Options:
Where to Eat: Vegan, Vegetarian, Organic and Sustainable Restaurants in Athens



Okay, there are loads of great places to eat in Athens, but when you've had enough of the meat, cheese, bread combo give these restaurants a try.
Avocado
So Amazing!!! Loads of delicious vegetarian meals from falafel, to crispy tofu to veggie burgers. This restaurant has a surprisingly large menu. They even have a few gluten-free and vegan options — which let's be honest… Greece is not super friendly to vegans… not that the Greeks are mean, because they're definitely not, but because the options for vegan food are seriously lacking. Definitely check out Avocado for your veggie and smoothie fix. It's one of my favorite vegetarian restaurants in Athens. Location: Nikis 30, Syntagma.
Indian Haveli
I might be biased. I love Indian food and it is one of my comfort foods. AND there are usually plenty of vegetarian options on the menu, which I love. Indian Haveli is conveniently located near Syntagma Square (2 minutes from the Acropolis metro) and it's affordably priced.
Nice n Easy
An organic bistro with locally sourced Greek food ie. loads of organic produce, fresh pasta and sustainably sourced meats. Nice n Easy is worth a visit. I would definitely recommend a reservation. This restaurant has a few other locations out on the islands, so if you can't get in in Athens, check out one of the island locations (if that's where you're headed). Location: Omirou 60, Athens
Seycheles
This may be the best meal I have had in Athens. Seycheles' menu has lots of small-ish plates and a handful of entree style plates and they're all delicious. I recommend the octopus, the tomato fritters and the smoked eggplant! Go with a friend so you can try more things! If you want to eat during prime time definitely make a reservation. The restaurant is out of the tourist zone in an up and coming, hipster-ish neighborhood called Metaxourgeio. Address: 49 Kerameikou street
Yogis Guide – Free Things To Do in Athens
Watch the changing of the guards at the Parliament building. The changing of the guards happens every hour on the hour. On Sundays there is an even more elaborate changing of the guards. On our first trip to Athens we stumbled upon the changing of the guards. It's cool. It's free. And you can stand in the shade while you watch.

Have a Picnic in the National Garden. The National Garden is massive and beautifully landscaped. Stop by a market on your way and grab a few snacks and maybe a bottle of wine (I have no idea if you can drink wine in Athens' parks — might be worth looking into).

Check out Anafiotika. Anafiotika is a super cute mini neighborhood in the Plaka area. The architecture is reminiscent of the Cyclades… narrow lanes, white buildings, flowering bougainvilla, and sunbathing cats are the norm. To get there from the Acropolos metro station, take Vyronos St. pass Lycicrates monument and turn left to Thespidos St until you arrive at Stratonos. Turn right on Stratonos and walk straight ahead. You have arrived! There is also some nearby street art.

Wander through Athens' Central Market. The Central Market is massive, impressively clean, and fairly priced. You'll find meats, cheeses, veggies, and grocery items. Everything you need for a picnic in the park.

Wander the historic center. Start at Hadrian's Arch, wander through Plaka, stop and aww at the archeological sites that seem to pop up out of nowhere.
Yogis Guide – 7 Must See Sites to Athens
If you plan on visiting multiple sites you should buy the multi-site ticket. The ticket to the Acropolis only is 20 euros. The multi-site ticket is 30 euros… and I would take a wild guess that you'll be visiting at least one or two more sites. Don't bother booking ahead, just go early in the day before the tour buses show up. The multi-site pass is valid at the following sites: Acropolis of Athens, Ancient Agora of Athens, Archaeological Museum of Kerameikos, Archaeological Site of Lykeion, Hadrian's Library, Kerameikos, Museum of the Ancient Agora, North slope of the Acropolis, Olympieio, Roman Agora of Athens, South Slope of Acropolis.
The Acropolis

The Acropolis Museum

National Archeological Museum

Varvakeios Central Market

Ancient Agora

Hadrian's Arch

Temple of Zeus
See here more Yogis Guide to Athens tips and meet Autumn Adams, the founder of Ambuja Yoga
Namaste!